View Size:
thumbnail
web
++
++
+++
++++
full-sized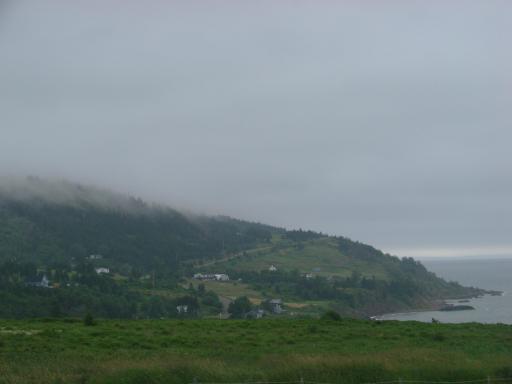 Taking a wrong turn at Antigonish
I was driving back from Baddeck to Halifax on my last day of vacation to catch my flight the next day and feeling my typical meloncholy moodiness. I was regretting the lack of scenic charm of the Trans-Canadian-Highway Rte 104. I was recalling previous trips in my twenties with my mother and my sisters; trips of many days from Boston through back roads through the northern coast of Nova Scotia through towns with names like Pictou, and Tatamagouche, and my littlest sister's favorite: Pugwash. (If I remember my nostalgia correctly, Pugwash a grassy bluff where we stopped to get ice cream cones from a man who very methodically and slowly with pencil and paper calculated the American to Canadian conversion with the slow determination of an unimaginative elementary school arithmetic test-taker. In the car I entertained my littlest sister, Pussy-willow, by having her teddy bears, Freddy and Victoria, do a vocabulary play illustrating the word 'methodical' while she sang the Pugwash song.) As I passed Antigonish, I remembered stopping there one summer in the eighties for dinner and I remembered it as a charming old town with historic old buildings. So I took a turn off into town but it was hard to tell from the exit which way to turn to go to the old town. Let's simply say, I chose the wrong one. By the time I could say for certain that I was not heading into Antigonish I was heading out through rural back roads and thought "Let's see where this goes."
That is the way all Siren Tiger adventures begin.
It was a very beautiful and very long and very indirect detour up Highway 337 north up the east side of St. Georges Bay and I watched the weather turn and pour, then lighten and mist, then turn and pour again. I rolled through hills of bladed grass and shores and marsh flats and all the wilds one could wish for a drive through mainland Nova Scotia.
It added two hours to the seventy kilometer stretch from Antigonish to New Glasgow, but it gave just the right flavor to a drive that should not be as dull as it is these days.
This is Ballantynes Cove just south of Cape George, as misty and moody as a place name Ballantynes Cove deserves to be.
Date Taken: 7-14-2008
Previous Photo:
Sunset over Fataya Bay
Next Photo:
Tiled Door
Coming Monday, December 18: Taking a wrong turn at Antigonish