View Size:
thumbnail
web
++
++
+++
++++
full-sized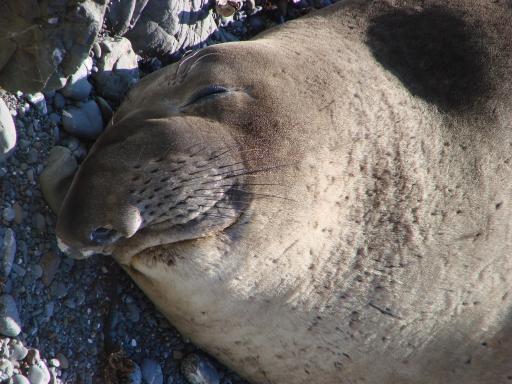 Smile! It's our 250th photograph!
I originally published this in 2008 and it was my 250th photo. By the new release (Starting July 4, 2011 I figure this is our 161st photo.

Yep...
A photograph a day beginning on New Years. September 6th, is the 250th day of 2008. That means this is our 250th photograph.
I'm beginning to run out of my reserves. Although I may snap dozens of photos at a time (and on this day watching elephant seals I snapped about 200) I only consider a few of them "presentable" and I only want to put the best ones one this site. Still I actually very seldom take photos often going months at a time without bothering. So... the upshot is I'm getting low.
I may have to make a conscious effort to go snapping more often.
Date Taken: 1-13-2007
Previous Photo:
Elephant Seal pup and bull
Next Photo:
Somewhere near Astoria, Oregon
Coming Monday, December 18: Taking a wrong turn at Antigonish